After the resounding success of the documentary's Kickstarter campaign last year, Mike Mignola: drawing monsters is ready for its first public screening! Secret Movie Club will present the event at the Million Dollar Theater in Los Angeles, which will begin with a screening of Bride of Frankenstein, followed by the documentary premiere and an on-stage interview with Mike Mignola and the filmmakers. All the details and links are below, along with a preview of the original poster from Mike Mignola and colorist Dave Stewart!
The Los Angeles-based Secret Movie Club will present the first public screening of the highly anticipated documentary Mike Mignola: Drawing Monsters at the iconic Million Dollar Theater in Los Angeles on Saturday, August 13, 2022. The screening will include a live onstage interview with Mike Mignola, the legendary creator of Hellboy, alongside documentary filmmakers Jim Demonakos and Kevin Konrad Hanna, and Secret Movie Club founder Craig Hammill. The evening will kick off with a special 35mm archival screening of Universal Studios' iconic Bride of Frankenstein, the James Whale-directed film that inspired Mignola's storytelling for decades. Entrants will be able to purchase a limited-edition 18″ x 24″ Secret Movie Club poster featuring Hellboy, Frankenstein's Monster and The Monster's Bride, by Mignola and award-winning colorist Dave Stewart. The Mike Mignola: Drawing Monsters event will begin at 6:00 p.m. Pre-sale of tickets and posters is available now.

When Mike Mignola created Hellboy, he launched a visionary comic book character and launched an entire universe populated by heroes and unique creatures, misfits and monsters. Featuring in-depth interviews with Mignola alongside appearances from Patton Oswalt, Guillermo del Toro, Neil Gaiman, Rebecca Sugar and Victor LaValle, Mike Mignola: Drawing Monsters is a movie for fans of the Hellboy universe and Hellboy movies, but more than that, it's a film for anyone interested in creativity and imagination.

"In a world populated by superheroes owned by Marvel and DC, Mike Mignola forged his own path," said filmmaker Kevin Konrad Hanna. "In addition to creating Hellboy, Mignola created one of the most successful indie comic book universes in comic book history. He's a true visionary.

"Mike Mignola is an inspiration, especially to creators like him who don't fit into traditional creative spaces," said filmmaker Jim Demonakos. "His story is about standing up for his vision, and his creative drive reflects all of our people who want to tell unique stories."

"We are truly humbled, excited and honored to have Mr. Mignola speak to our community of movie lovers and filmmakers," said Craig Hammill, founder of Secret Movie Club. "Great movies are often made by people who draw inspiration from the art of other mediums. Mr. Mignola's key work as a storyteller and cartoonist of comics that strongly reflect his voice mirrors the journey of independent filmmakers We're thrilled that our audience can ask Mr. Mignola questions directly about his background and his thoughts on film, creativity and storytelling.

The evening will be structured as follows:

18:00 Bride of Frankenstein

7:45 p.m. Mike Mignola: Drawing Monsters

9:30 p.m. Questions and answers on stage with Mignola and the documentary filmmakers.

The Mike Mignola: Drawing Monsters documentary was originally crowdfunded on Kickstarter, where it raised over half a million dollars in pledges. It will be screened at film festivals throughout the year. For more information on the film, follow the documentary Twitter account. For more Secret Movie Club news, follow them on TwitterFacebook and instagram.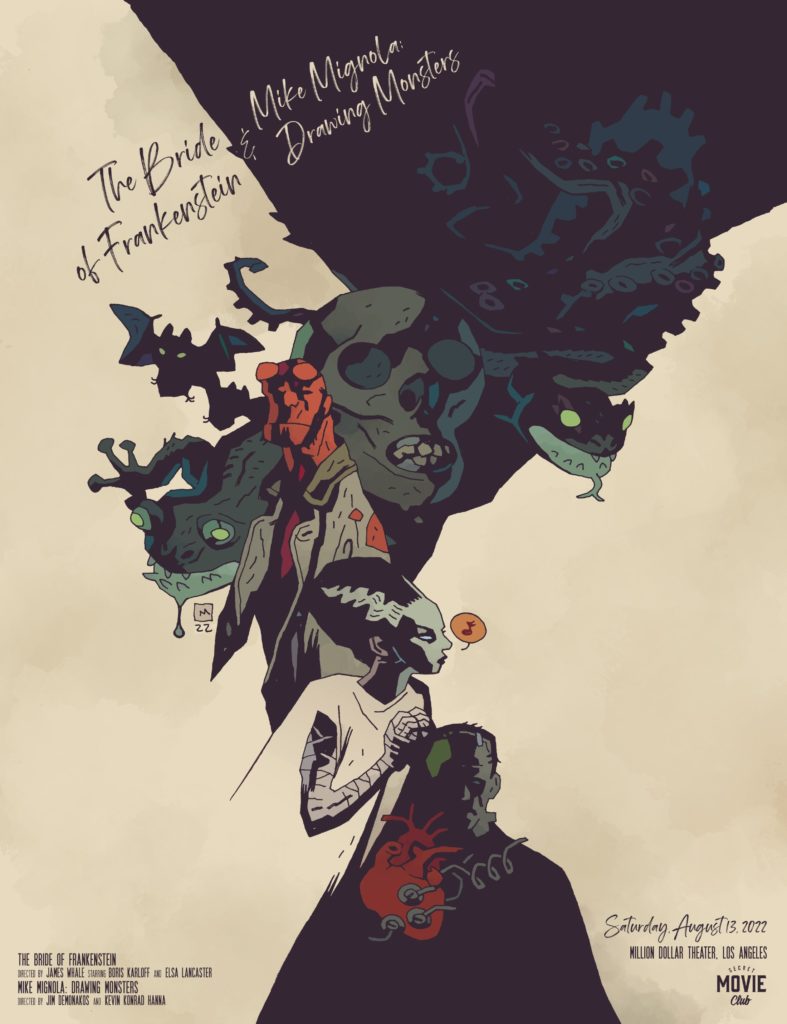 [ad_2]Source link

[ad_1]